Wingsurfing is one of the most innovative water sports that mixes kitesurfing, windsurfing and paddlesurfing by using the SUP board (equipped with the well-known hydrofoil), together with a sail called wing similar to a windsurf sail.
It is a sport in which you will have fun very quickly and you will have the experience of sailing in an easy way. From the first day you will have the feeling of joy and freedom that comes from sailing.
A good physical level is not necessary, anyone can enjoy this experience. All our monitors and materials are adapted to any level of navigation so that the progression is as simple and fast as possible.
Wing surf courses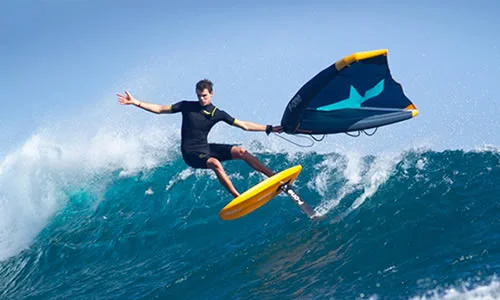 Private (clinic):
1 instructor, 1 student, 2 hours -> 140€ = 70€ per hour
Semiprivate (2 persons):
1 instructor, 1 wing, 2 students, 3 hours -> 105€ = 35€ per hour
(price per person, minimum 2 person)
All prices include full equipment, insurance and rescue boat service.
Book