Begin your kitesurfing journey at our kite school in Tarifa. If you want to discover what kitesurfing is and learn more about this exciting sport, the beginner course is your best option.
The duration of the course will be 3-4 hours per day and will be taught either in group (maximum 4 students), semi-private (maximum 2 students) or private lessons.
Private
Lessons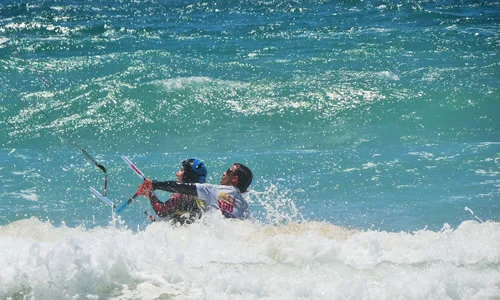 one-on-one lessons
one kite for you alone
tailored learning
the fastest progress
Price per day:
2 hours - 130€

(120€ from the 3th day)
Semi-Private
Lessons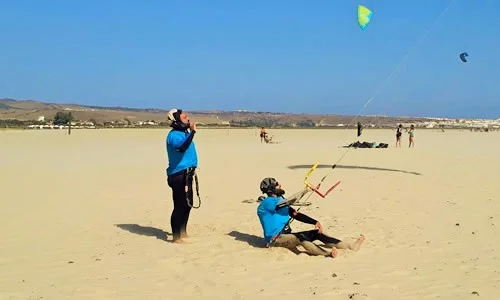 two students - one instructor
one kite for each student*
fast & safe learning
perfect for couples, friends
Price per person:
2 students - 1 kite - 3 hours - 100€
(90€ from the 3th day)

2 students - 2 kites - 2 hours - 80€
Group
Lessons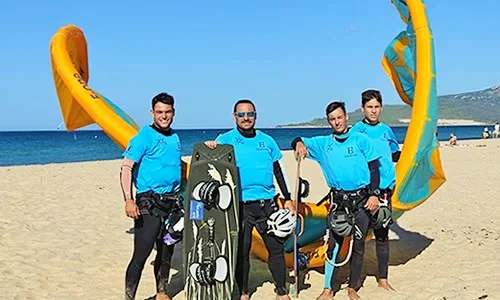 4 people max. per instructor
one kite every two students
fun & laid-back learning
great for friends, family
Price per person:
3 hours - 65€
4 hours - 80€
Booking minimum 3 people
*For safety and quality reasons, semi-private kiteboarding lessons will begin with a shared kite between the two students. From the 3rd day on, if you feel confident and show good kite control, there is the option of doing the lesson with a kite for each student, as long as the student's level and the weather conditions allow it.